Winter starts December 21 here in the Northern Hemisphere. I know many of you are planning lessons to teach about the season of winter. Here are some ways you can weave this into all of your subject areas, with some free downloads to use as well!!!
1. ELA
For those that are emergent readers, a book with simple, decodable and repeated text can be a great way to talk about the season of winter. You can write one in power point in less than 10 minutes and add some simple clip art and be ready to go. Being able to read something simple is a great way to build confidence and work on those early comprehension skills.
You can grab a book I wrote, The Colors of Winter, in the Free Resource Library. Click HERE to check it out. If you have not signed up for the library yet, and need the password, no worries, click HERE to get access.
2. Literacy
Oh my, there are so many great books out there with a Winter theme. If you are looking for a great list of picture books on Winter, visit We are Teachers. They have a great list, click HERE to see it.
If you are looking for books on winter to read aloud, check out Mrs. Jones Creation Station HERE for a cool list.
I have the perfect literacy unit for winter on The Snowy Day in my store. Click HERE to check it out. It has lots of activities, a writing prompt and a social story on Feeling Disappointed.
3. Math
So many things you can count that are winter-themed. You could count snowmen, candy canes, snowflakes and more. Have you download my FREE adding ornaments to the tree worksheet in the free resource library? Click HERE if you need the password. Click HERE if you already know it 😊. Just look under the math section.
If you need some higher level math with a winter theme, check out my Winter Word Problems unit HERE. It has 18 small group practice word problems with guidelines and 20 addition and subtraction word problems worksheets with a winter theme.
4. Science
Of course, you will be teaching about Winter in your science block. This is an easy one if you have the right materials. I recently went back and totally redid my unit on Winter in my store. It has 8 days worth of packed plans to keep your students busy. Click HERE to check it out.
5. Social Studies
This is becoming one of my favorite subjects to explore and research. So, my mind immediately went to how I could incorporate winter into my social studies lessons. Geography was the obvious choice!! As I said in the first sentence, we are starting the season of Winter here in the Northern Hemisphere. But, I know I have followers from all over the world. Also, not many students may understand what or where the Northern Hemisphere is. It would be nice for our students to realize that people are experiencing not only different weather around the world, but also different seasons. Although the start dates are not exactly the same, the Southern Hemisphere will be experiencing summer while we experience winter up North. We did this same activity for Fall, so it is always good to go back and practice a skill especially with new materials.
So, be sure to download this map and have students identify the 2 hemispheres and the current season in each. Just click the button below.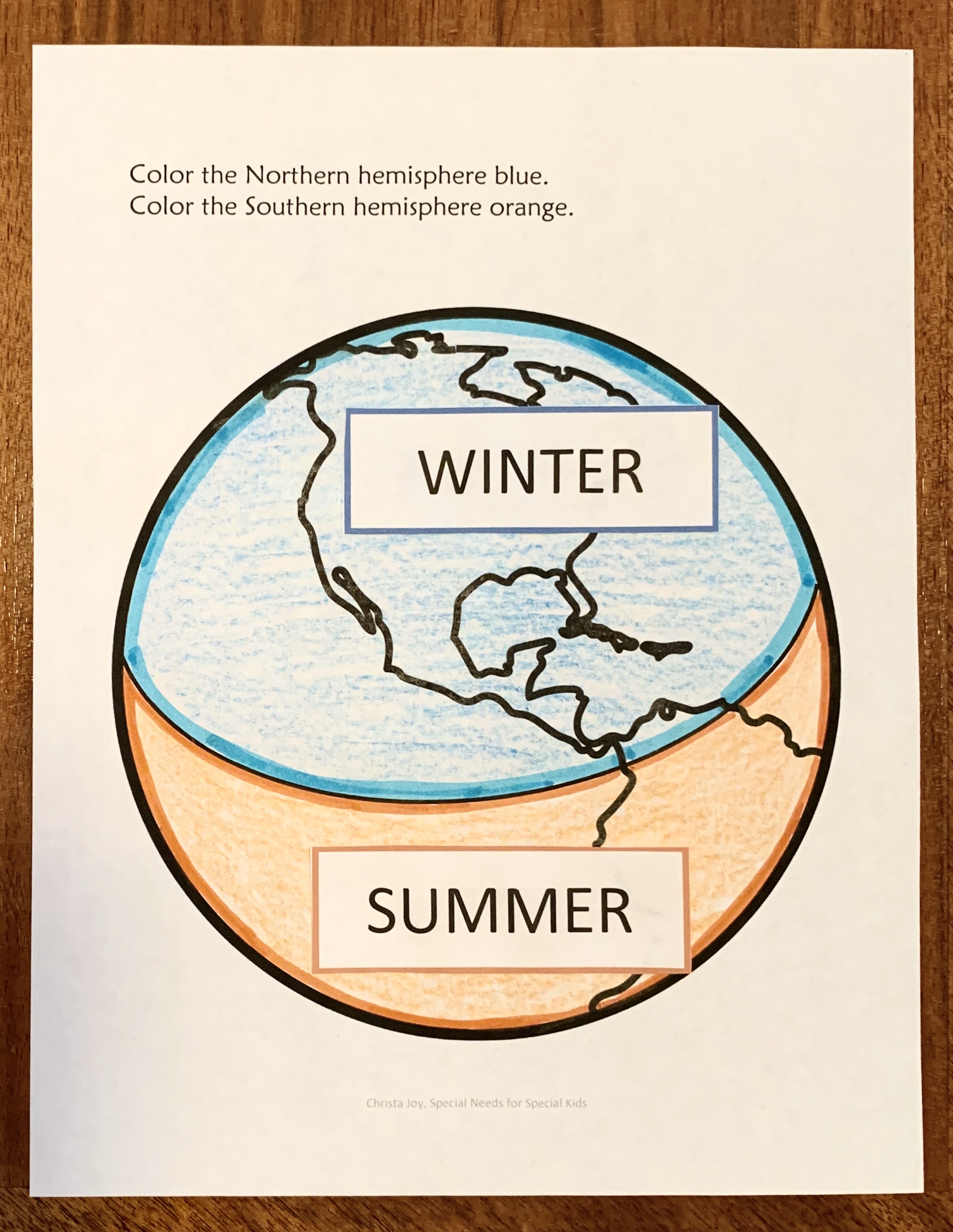 I hope this has given you some ideas of how you can teach winter in all subjects all day long. There is so much we can dive into with each season!!
One final note…. Have you been getting my emails for Free Worksheet Wednesday?? This week, I have yet another Winter worksheet that will show up in your inbox at 6:00 am EST Wednesday morning. So, if you are not on my list, then be sure to sign up HERE.